Saayman Danks Electroplating has been a leader in the metal finishing industry since 1981. Our success has been achieved by working closely with our customers, identifying problem applications and proposing economically feasible and technically sound solutions. Saayman Danks Electroplating provide a diverse range of metal finishing services specializing in electroplating and anodizing. We supply various industries including the automotive, shop fitting, food and electrical industries.
A fast, efficient service, coupled to a quality finish, has enabled Saayman Danks to become the largest electroplating company in Kwazulu Natal, employing over 70 people. From industrial finishes offering a high corrosion coating to bright chrome plating for vehicle restoration to antique finishes for the interior decorating market, SDE offer a vast range of metallic coatings.
SDE are proud founder members of the South African Metal Finishing Association and are ISO 9001:2008 accredited.
We have our own fully equipped in house laboratory enabling us to keep a constant focus on the optimum levels of our process tanks and to offer our customers thickness testing and salt spray testing to meet their specifications.
OUR TEAM
SDE Team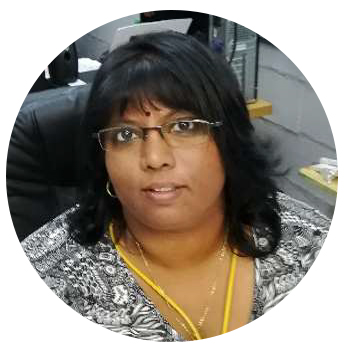 Vanessa Armugam
Chief Managing Member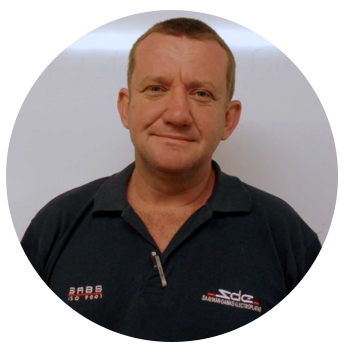 Edwin White
Chief Operations Member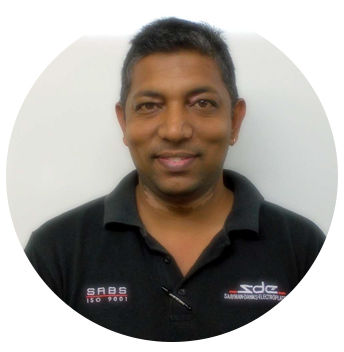 Atish Tulseedas
Chief Marketing Member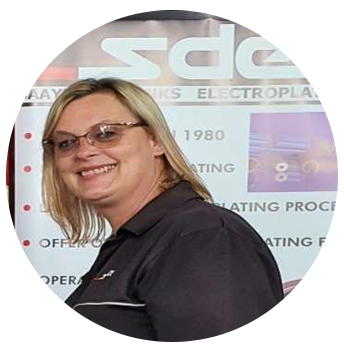 Natalie White
Chief Financial Member
MISSION
We believe that the safety and well being of our employees is a primary concern to us at S.D.E. and we will continue to identify, report, and strive to eliminate all health and safety hazards encountered in the work place.
We believe that our future success depends on supporting our continuous improvement philosophy and we encourage the input and participation of our employees, suppliers and customers to assist us in remaining leaders within the electroplating industry.
We believe that our customers are the life blood of our business and they are the reason our business exists . Our customers requirements and product satisfaction is a major concern to us and drives us to try and exceed all expectations.
BEE
Saayman Danks is a Level 2 contributor BEE 2019 S. Dinclaffid CC QAR LEVEL 2